Pediatric Dermatology in Concord & Charlotte, North Carolina
At our Dermatology Group of the Carolinas locations in Salisbury, Huntersville, and Concord, NC, we offer Pediatric Dermatology services to treat children of all ages suffering from skin diseases, infections, and conditions. Whether it's a minor or major skin concern, our highly-trained dermatologists  can design a customized treatment plan to restore health to the skin and manage any chronic skin conditions.
Common pediatric skin concerns include:
Acne
Rash
Chicken Pox
Eczema
If your child is suffering from a more complex condition or not responding to general treatment, Dermatology Group of the Carolinas has one of the only Pediatric Dermatologists in the region trained to provide complex care management.
Complex Pediatric Dermatology
Complex Pediatric Dermatology refers to the treatment of more complex skin concerns and diseases that affect children. If your child is suffering from a skin disorder or condition, we can provide you with the care and support you need as you navigate the best treatment plan with the help of our board-certified pediatric dermatologist, Dr. Ter Poorten.
Congenital Lesions
Congenital lesions are more commonly known as birthmarks and are made up of what are known as immature blood vessels. While most birthmarks are benign, some can indicate a more serious condition. If your child has a birthmark, and you're worried about it detracting from their appearance or being an indicator of something more serious, we can evaluate that congenital lesion and help determine the best treatment plan to help you feel more confident in your child's health and skin.
Neonatal Skin Disease
Neonatal skin diseases affect many newborns and can often cause fear and anxiety among new parents. We provide treatment plans to treat the different neonatal skin diseases that can affect newborns, provide the right treatment options to safely restore healthy skin, and help parents feel more confident in the health of their newborns.
Atopic Dermatitis
Atopic dermatitis, commonly called eczema, affects 15 to 20% of all children. Different factors can trigger eczema, including foods, environments, pets, and topical products, among others. This condition develops very early in childhood and often resolves itself later in life, but in the meantime, you need a solution to help alleviate the redness and itching that accompanies a typical flare-up. We offer customized treatment plans to treat atopic dermatitis in children and help prevent flare-ups while treating active ones to alleviate discomfort and other negative symptoms that impact your child.
Pediatric Psoriasis
Pediatric psoriasis is a type of psoriasis that affects young children. It can occur with or without infection and causes dry, itchy spots on the skin. This condition often results from an immune system response but can cause discomfort in children. We can design a treatment plan to address the severity of your child's pediatric psoriasis to improve quality of life.
Infantile Hemangiomas/Vascular Malformations
Infantile hemangiomas form when blood vessels multiply and develop abnormally They often appear as large birthmarks and can develop on the face, chest, hands, or other body areas. Some resolve on their own, and others require treatment, so if your child has an infantile hemangioma, we can evaluate it and treat it as necessary. We also treat vascular malformations, which also result from abnormal blood vessel development.
Cutaneous Autoimmune Disorders (Alopecia Areata/Vitiligo)
We also treat cutaneous autoimmune disorders, including alopecia areata and vitiligo. Alopecia areata occurs when one's immune system attacks the hair follicles, which results in significant hair loss. This autoimmune disorder can be managed with the right treatment plan. If your child suffers from this condition, we can evaluate the symptoms and design a treatment plan to reduce occurrences. Another similar autoimmune disorder is vitiligo, in which the skin loses pigment and causes discolored spots. While it cannot be cured, it can be managed, and if your child is suffering from this condition, we can determine which treatment methods can help slow the disease.
Complex Skin Infections
Complex skin infections affect many children and often end up puzzling parents. If your child has an infection of the skin that's causing you to worry and causing them discomfort, we can evaluate the condition at our office and determine the cause and the right treatment protocol to treat it and help restore normal, healthy skin.
Skin Cancer Screening
Skin cancer screenings are important for adults but are just important for children. We perform skin cancer screenings for children and can evaluate mole or other skin growths and concerns on the body to determine whether they are harmless or need further evaluation or removal. Undergoing regular skin cancer screenings can help prevent skin cancer in children and help you take the right steps to ensure you're using the right type of topical and clothing-based protection for your children whenever they spend time in the sun.
High-Risk Medication Management
We also provide high-risk medication management for children who must take certain drugs that, when used incorrectly, can cause more risk. We can work with parents to ensure they have the information and tools they need to administer medication to their children without fear of adverse reactions.
Preparing for Your Appointment
We schedule Pediatric Dermatology appointments over the phone and online and contract with most insurance companies to make this process as simple and seamless as possible. On the day of your appointment, be sure to bring your insurance card, photo ID, and a list of any medications your child currently takes. You must complete the new patient paperwork in advance of your appointment and submit it. A parent or legal guardian must accompany all children under the age of 18.
Learn More
If your child is suffering from a skin condition, you don't have to live in fear of the unknown. Our expert, highly-trained pediatric dermatologists can evaluate your child's skin and determine a unique and custom-tailored Pediatric or Complex Pediatric Dermatology treatment plan that will help you and your child feel more comfortable in the health and appearance of their skin.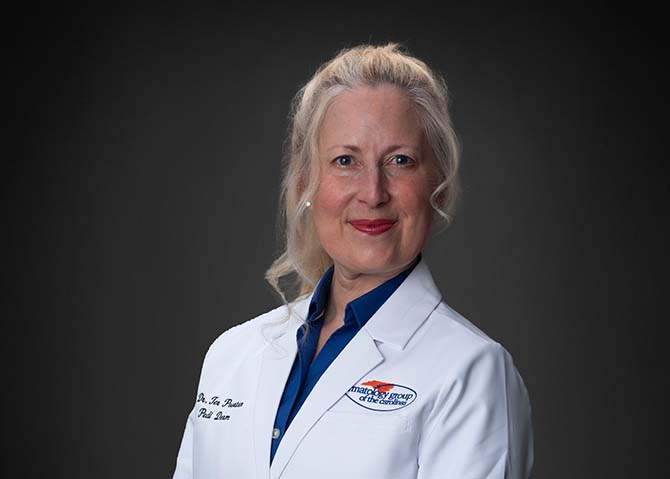 For complex pediatric care, Dr. Ter Poorten is available by physician referral for "high risk-complex" pediatric patient evaluations and treatment.
Dr. Ter Poorten and her staff are eager to assist families not only with the initial visit but also with long-term follow-up care. She feels communication is of utmost importance for excellent pediatric dermatologic care.
Please visit www.pedsderm.net for more information about Pediatric Dermatology.